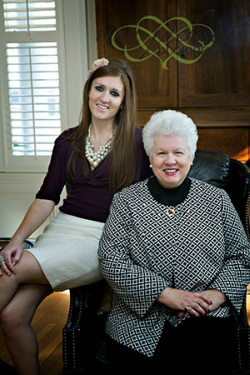 Long & Foster Realtors. 1910 William Street, Fredericksburg, Virginia 22401.
"We were here yesterday, and we will be here tomorrow..."
A Family Name

In 1954, James Scott Pates opened the doors of Pates Realty. Over the decades, he provided his clients with superior service . This standard of excellence was maintained by his daughter-in-law, Susan Bond Pates, who has been a real-estate broker, first in the District of Columbia and then in Virginia over a 32-year career.

Raised in Orange County, Susan graduated from Mary Washington College and then received a Master's Degree from the University of Virginia. Over the years, Susan has received awards for her efforts in local historic preservation. She has served as chair of the Fredericksburg Board of Equalization. Presently, she is on the city's Architectural Review Board.

Susan has been married for 40 years to the former City Attorney, James M. Pates. They have one daughter, Anne Morgan, who graduated from the University of Mary Washington in 2010. Anne Morgan started working as a residential agent in 2012, has worked in residential sales for over four years, and as the commercial leasing agent for South Stafford real-estate developer, Piccard Commercial, for two and a half. She also works as an assistant to her mother, making her the third generation in the Fredericksburg real-estate business.


James Scott Pates
Owner, Pates Realty
1954-1989

Susan Bond Pates, Associate Broker

---

Anne Morgan Pates,
Assistant






Why choose us?
Susan Pates has 32 years of real-estate experience, most of which has been in either in Washington, D.C., or the Fredericksburg area.
Her involvement in many local real-estate and economic development board and her long-term dedication to providing superior service has continued the legacy of the Pates name which has stood for
integrity and loyalty in the real estate business for more than 60 years.
When it comes to choosing the right agent for you, come talk to us.
Even if you're looking in an area or for a type of property that we don't feel totally knowledgeable abou
t, we are always able to direct you to someone who is the right fit.
By putting our friendships ahead of our bank account, we have managed to maintain a reputation for real estate service at it best.
We are always here to help, to give advice, and as a resource for any real estate related questions. So use us!
Our MRIS search is kept up to date with all current listings in the Virginia, D.C., and Maryland areas. Find any and all properties for sale in your area! MRIS is the only DMV area's official real estate database. Only agents have access to it, and the site is regulated and the most accurate and up to date information you can find on the internet. For those of you using Zillow, Trulia, Realtor.com, etc. -- be careful, these sites are often unreliable and contain incorrect or outdated information!